Biography
I've always loved songs and singing. I was 4 years old when I got my first guitar, it was only a toy but many years later I would become the proud owner of a cherry red Gibson J-45. Since then I have never looked back.
It really started in the late 1950s; Radio Luxembourg was inspiring many would be young bands all over the country and so I started out first as a drummer before switching to guitar. During the 1960's I remember complementing the vocalist of one band I was in (who was also writing a musical at the time) on his great Elvis impersonations. I advised him to concentrate more on his singing career, fortunately he ignored my advice and the following year 'Jesus Christ Superstar' opened in the USA…. It turned out he was Tim Rice!

In the summers of the late 1960's, I began to focus more on playing guitar and singing. I took my inspiration from the early albums of Bert Jansch and Donovan whose fingerstyle playing was so fresh and dynamic. Bert had just released his "Moonshine" album and the title track still remains one of my all-time favourite songs. I think he's left us with a wonderful legacy of music. So I turned my attention to the Cornish folk scene and then later moved to London.

In the early 70's, I met Appalachian dulcimer player Roger Nicholson at the 'Peeler's' folk club. This took me in a very different direction altogether because the dulcimer with its medieval looks and modal sound really caught my imagination. Roger was looking for someone to accompany him and I was happy to oblige. In a partnership that was to last for several years we toured the UK, USA and Europe, recording six LP's together featuring Appalachian dulcimer, hurdy gurdy, guitar and vocals.

As for the hurdy gurdy! That began one night around 1975 in a Paris nightclub. I was on tour with Roger and heard the hurdy gurdy (or 'vielle à roue' as the French call it) for the first time. Now I'd long been interested in the music of the 13th century troubadours and was captivated by its sound. I'd owned a symphonie for a couple of years but was determined to have a gurdy for myself. I ordered a classical Saunier model from Christian Labourie, a gurdy maker from the foothills of the Alps. I collected it a year later in my little Citroen 2CV and became one of the pioneers of the UK's hurdy gurdy revival. So the instrument with its thousand year history covering both middle and eastern Europe provided the inspiration for many of my songs.
Back in 1973 I was fortunate to join legendary guitar player Wizz Jones in the band 'Lazy Farmer' along with his wife Sandy, Don Coging and John Bidwell. The music was primarily based around 'Old Time' American frailing banjo and I used the dulcimer almost exclusively with them. We only recorded one album together in Germany produced by the renowned Connie Plank; but I have fond memories of the long German tour that followed the albums release. It was wonderfully chaotic at times but definitely had its moments.
During the 1980s I went on to release two solo LPs, The Gloaming Grey and Sunlight and Shade before forming a successful partnership with Jez Lowe and recording Two A Roue which was Folk Roots #4 album of 1986. We toured extensively together throughout the UK, USA and Europe up until the end of the 1980s. I continued to play through Europe often with the Breton musician Eric Liorzou taking part in two 'Irish festival' tours through Germany and Switzerland (1991 and 2002) along with Altan and many others. The 1991 tour was to promote my first CD 'Songs from the Gurdy Man'. Wonderful times!..
Jake Walton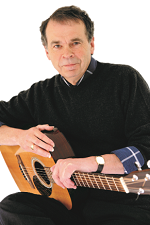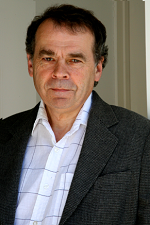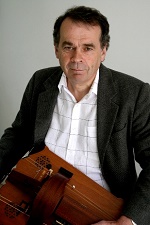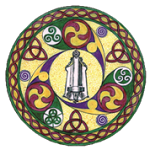 ©Vivien Nicholson 2011